Refined GPS Timepieces for the Athlete and Adventurer
Next generation Tool-Watch for athletes and adventurers, with authentic performance features
GPS timepiece of traditional watch making quality with tough metal case and sapphire glass lens
Innovative Elevate™ wrist heart rate paired with performance features for many sports including trail running, cycling, swimming, skiing, and golf
Quality and reliable navigation with GPS/GLONASS, advanced barometric altimeter, 3D compass and Garmin's renowned navigation experience
Smart Connected with smart notifications and personalisation of watchfaces and apps through Connect IQ™
1.2-inch always-on, sunlight-readable colour Garmin Chroma Display™ with up to 1 week of battery life in smart connected mode
Receive smart notifications2

 

like emails, texts, alerts and more
Battery life: up to 8 days in smartwatch mode (depending on settings), up to 13 hours in GPS mode or up to 25 hours in UltraTrac™ battery saver mode.

Crafted from premium materials, with a traditional watch making quality finish, fēnix Chronos is the first Garmin watch to combine a durable metal case with integrated metal EXO™ antenna for performance GPS to support navigation and sport. In the tradition of classic tool watches, it features a tough design and an authentic set of 21st century tools such as Elevate™ wrist heart rate, running and swimming apps, advanced performance metrics for endurance sports, Garmin quality navigation features and smart notifications1. Top-tier performance meets sophisticated design in a highly evolved timepiece that fits your style anywhere, anytime.
Elegant Style Meets Robust Performance
fēnix Chronos is available in 3 distinctive styles: steel with vintage leather band, steel with brushed stainless steel band and titanium with brushed titanium hybrid band. Each timepiece is manufactured with the highest attention to detail out of quality watch material and finished with refined surface treatments. All watches feature advanced technologies such as GPS and GLONASS satellite positioning, additional sport and navigation sensors, outdoor optimised colour Chroma™ display and smart connectivity for a modern tool set - unheard of so far on high end watches. As a next generation tools watch, fēnix Chronos comes loaded with features that really matter to modern adventurers and athletes. Intelligent power management also provides great autonomy - up to 25 hours in UltraTrac™* GPS mode, 13 hours in GPS mode and up to 1 week in smart connected mode (all depending on settings). Access the Connect IQ™ store for further personalisation of watch faces and additional downloadable apps.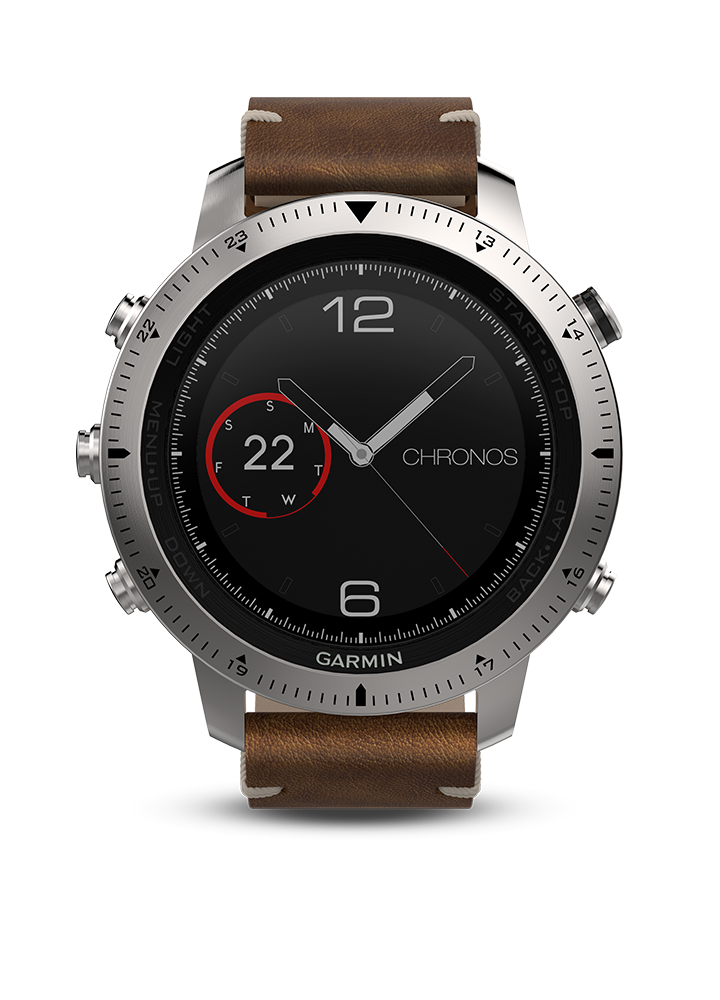 fēnix Chronos - Steel with Vintage Leather Watch Band
With a solid brushed 316L stainless steel case and brushed stainless steel 49mm bezel, this model features 24h marking detail for GMT time keeping and fully integrated EXO™ antenna for GPS + GLONASS positioning - water-rated to 10 ATM (100 metres)2. The watch crystal is made out of high-strength scratch-resistant sapphire glass. This model has a brown vintage style leather strap with hand-sewn contrast stitching, nubuck inner lining and quick release mechanism for easy toolless exchange of wristbands. The watch comes with an additional black silicone sports band also with quick release mechanism.
fēnix Chronos - Steel with Brushed Stainless Steel Watch Band
This model has a robust, solid brushed 316L stainless steel case and a brushed stainless steel 49mm bezel with tachymeter scale and a fully integrated EXO™ antenna for GPS + GLONASS positioning - water-rated to 10 ATM (100 metres)2. The watch crystal is made out of high-strength scratch-resistant sapphire glass. The five-piece link watch bracelet is made out of solid brushed 316L stainless steel with push button deployment clasp and quick release mechanism for easy toolless exchange. The watch comes with an additional black silicone sports band also with quick release mechanism.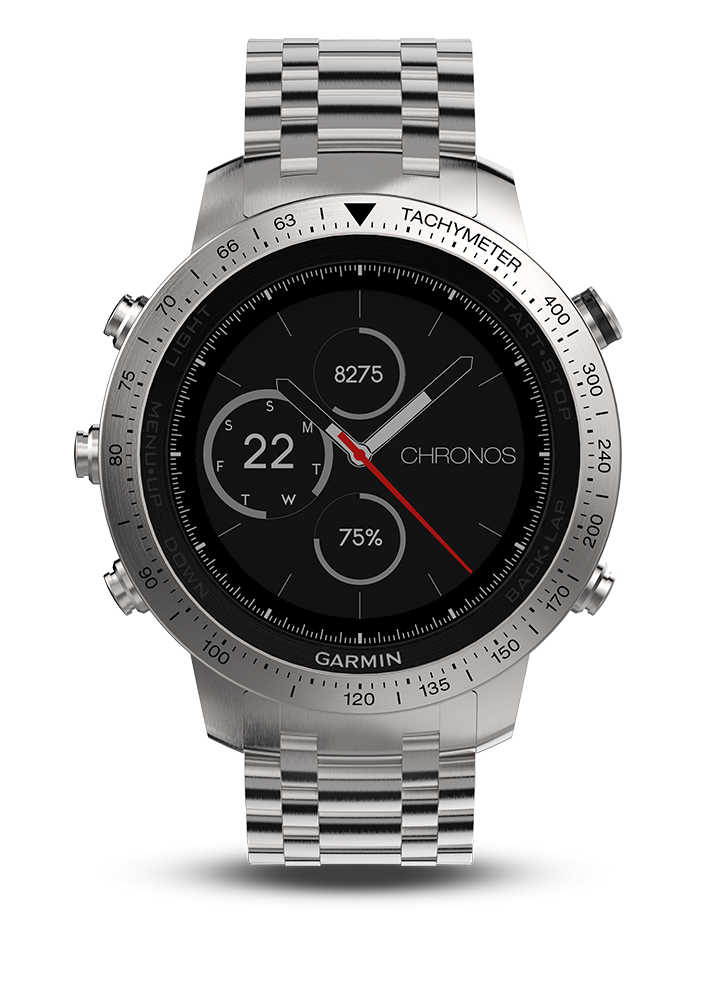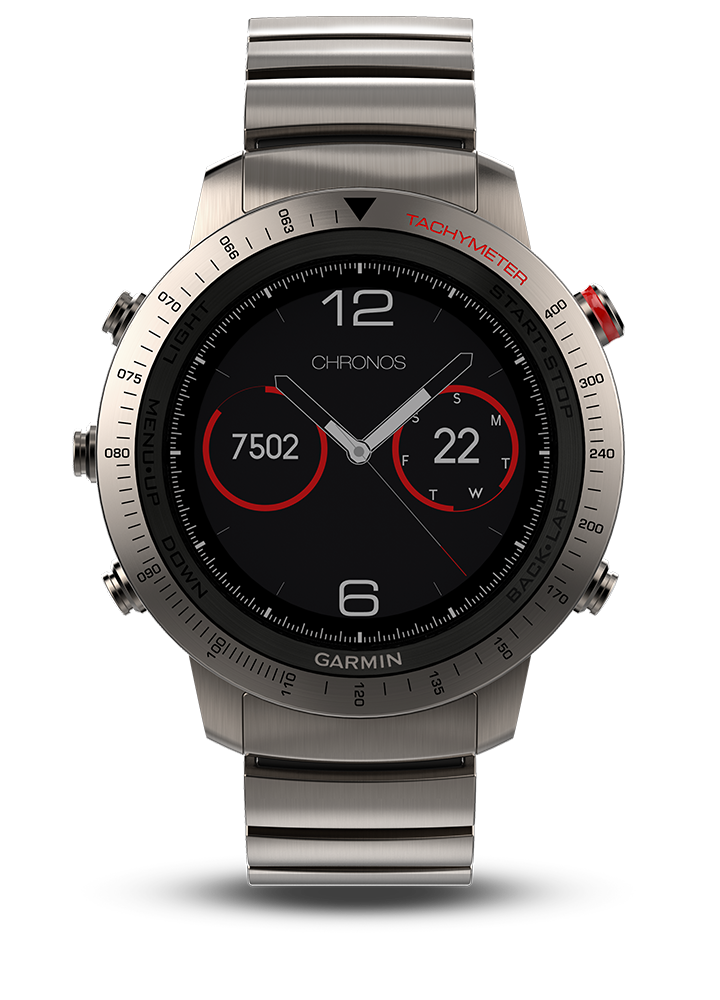 fēnix Chronos - Titanium with Brushed Titanium Hybrid Watch Band
The high performance model has a light but high-strength forged titanium Grade 2 case and a 49mm brushed titanium bezel with tachymeter scale and fully integrated EXO™ antenna for GPS + GLONASS positioning - water-rated to 10 ATM (100 metres)2. Its crystal is made out of high-strength scratch-resistant sapphire glass. The innovative brushed titanium hybrid bracelet (Grade 2 Titanium) features first of its kind titanium/elastomer links for better flex and optimum wearability. A butterfly clasp with push button release and quick release mechanism provides an easy toolless exchange. The watch comes with an additional black silicone sports band also with quick release mechanism.
Garmin - Experience that Matters
fēnix Chronos incorporates the great experience of Garmin as the market leader and innovator in consumer GPS technology. Garmin stands for durable and reliable tools built for navigation and performance measurement. The ideal gear for deployment in the most demanding environments, Garmin has a strong reputation built up over several decades by leading athletes and outdoor professionals all over the world. Garmin has innovated its GPS usage in wearable devices for sports and in smart notification technology in wearables. People rely on Garmin products for their success and trust their lives on the technology on a daily basis in markets like aviation, marine, sport and outdoor. Its profound experience and desire for quality innovation allows Garmin to blend cutting edge performance sensor technology with traditional quality standards of the classic watch market to a meaningful and authentic modern tool-watch the fēnix Chronos.
Your partner for all the sports
With the help of GPS/GLONASS and additional sensors, fēnix Chronos can track and measure performance data during your sport activities such as time, distance, speed, average pace, ascent and descent etc. This information is used for better control during training and comprehensive analysis after a workout. To give you the chance to explore all kind of activities, fēnix Chronos supports a vast amount of different sports with dedicated profiles and features out of the box such as running, swimming, cycling, triathlon, swim-run (and other multi-sports), trail running, hiking, climbing, skiing, indoor training, rowing, SUP, cross-country skiing and more. In swim mode, the watch supports both indoor and open water swimming and tracks distance, strokes and even your stroke efficiency. Ski/Board mode puts speed, distance, vertical drop and an automatic run counter (with Auto Pause for the lift line) and more at your fingertips. In Golf mode you'll get yardage to the front, back and middle of the green, layups and doglegs for any single course out of more than 40,000 available courses that you can download for free from Garmin Connect.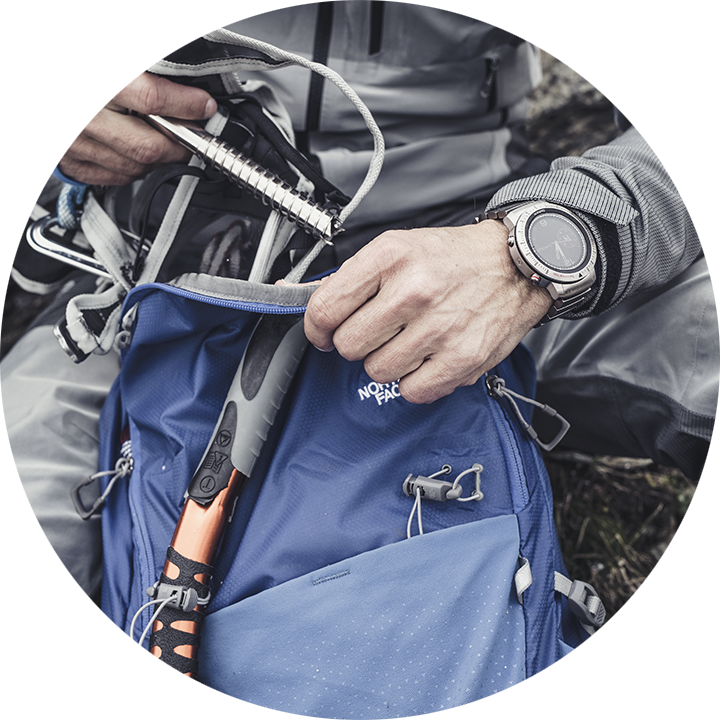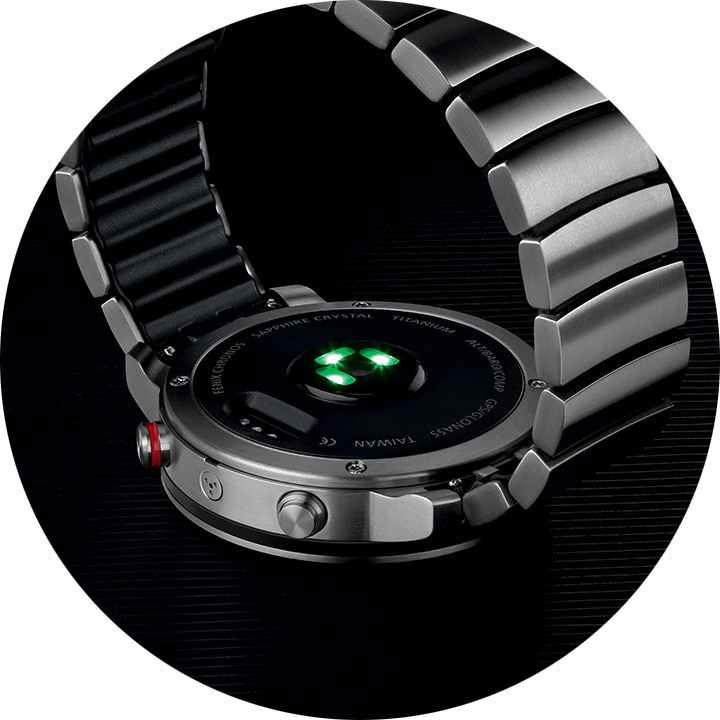 Wrist-based Heart Rate
On your wrist, fēnix Chronos Elevate™ wrist heart rate technology1 lets you conveniently monitor your heart rate without wearing a chest strap, this provides maximum flexibility for your training plan as you can go for full performance measurement at any time you want. At the same time it also provides 24/7 heart rate monitoring for recovery control and to better quantify the intensity of your activities throughout the day.
Advanced Fitness Metrics
For ambitious athletes, the fēnix Chronos supports additional performance tools that help to better understand running efficiency through running cadence and stride length. On base of VO2 max estimation it provides guidance on actual performance condition, the estimated finish time (for a 5k run, for example) and recommended recovery time after running and cycling workouts. The VO2 max estimator analyses data, including your running speed, beats per minute and heart rate variability to estimate the maximum volume of oxygen you can consume per minute. Together with an optional heart rate chest strap, Chronos can provide even more advanced insight - you can gain full transparency on your running efficiency with enhanced Running Metrics. Advanced Physiological Metrics allow athletes to get the most out of their workouts. For example, by determining your personal lactate threshold to dial in the right training zones or evaluating your actual Stress Score to determine the right intensity for the next workout. fēnix Chronos can also pair with additional ANT+ sensors for further performance tracking like Vector™ for cycling power, cycling speed and cadence sensors as well as others. Be assured that with fēnix Chronos performance metrics you will get much more out of your tireless training.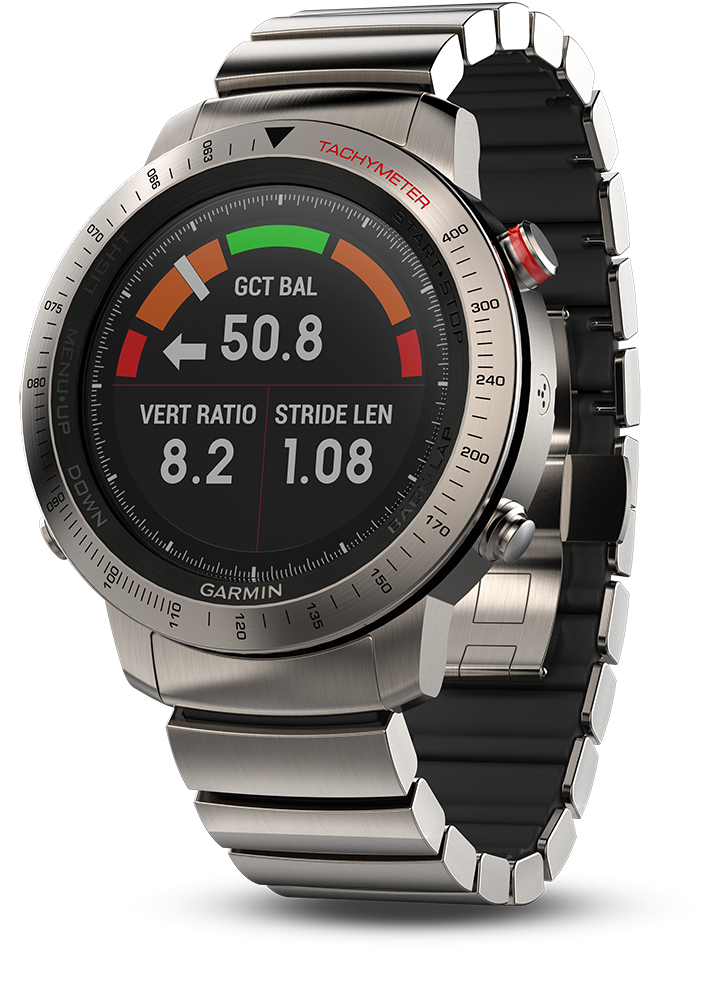 Join the Great Athletes
Garmin Connect™ is the place to be, many athletes around the world use this sport community to plan, store, analyse and share their activities. Once your fēnix Chronos is paired to your smart phone the Garmin Connect Mobile App automatically uploads the data from your last activity. On Garmin Connect you can analyse your data to better understand your progress and share it with other athletes or even compete against friends during virtual competitions. From Garmin Connect you can share your activities with others through social media or invite them to follow you during your activities online – with the help of the LiveTrack™ function.
Safe Navigation in any Environment
fēnix Chronos provides comprehensive navigation and tracking to guide you on and off the beaten path using GPS/GLONASS plus ABC (altimeter, barometer and compass) sensor capabilities. GPS technology allows you to determine your position and also to track position over time to record a track log and provide activity related data such as distance, speed and time. The recorded "bread crumb trail" gets used by an important safety feature, TracBack® which can help you navigate safely back to your starting point the same way you came. GPS also allows you to mark and navigate to locations, such as a checkpoint or a rescue shelter, the parking spot of your car or other important locations. The integrated 3-Axis Electronic Compass allows safe orientation even while standing still.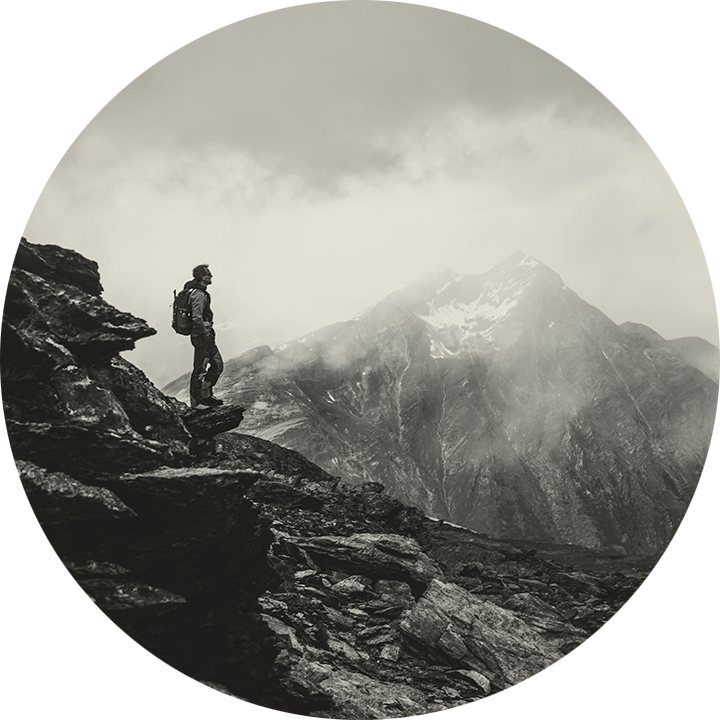 For many outdoor activities precise elevation information is crucial for mission success, therefore, fēnix Chronos comes with a high performance Barometric Altimeter. Usually a barometric altimeter requires regular calibration - fēnix Chronos offers an auto calibration function that uses GPS for automated elevation calibration on the go to ensure the elevation remains accurate. The barometer also constantly monitors changes in air pressure which allows you to monitor weather changes and can warn you of the risk of upcoming storms. For accurate ambient temperature reading, pair the watch with our optional wireless tempe™ temperature sensor.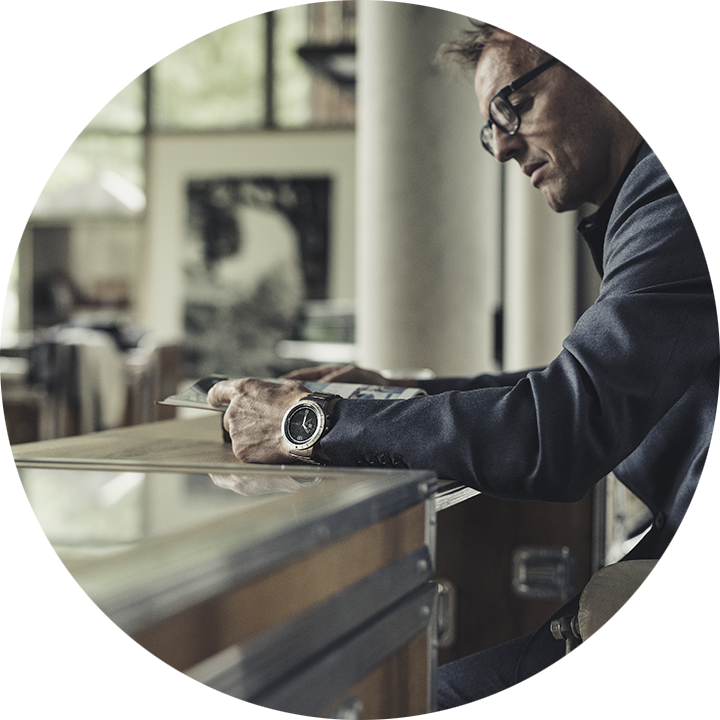 Smart and Connected
fēnix Chronos is a valuable connected tool - it features smart notifications that let you receive alerts for emails, SMS, incoming calls and social media notifications to your wrist, whether you're on the trail, on the golf course or simply away from your desk. The watch receives the alerts from a compatible smartphone2 and shows them on its screen - you no longer have to pull out your phone each time you get a message. Thanks to Connect IQ™ you can also personalise your fēnix Chronos with free downloads from our Connect IQ™ store. Customise your watch face, add data fields and get apps and widgets to experience your watch in many new ways.
Running Power
Add power data to your training by downloading our Running Power app from the Connect IQ™ store onto your compatible watch. Developed by Garmin Labs, the Running Power app taps into metrics — such as pace, vertical oscillation, grade and even local wind conditions — to determine the amount of power you're applying at the ground as you run. When you know how much power you're expending from minute to minute and mile to mile, you're better able to pace yourself, which can help keep you from tiring out too quickly. The best news? If you already own the right Garmin devices, adding power to your run is free. All you need is a fēnix® 5/fēnix 5S/ fēnix 5X, fēnix Chronos, Forerunner® 935 and 1 of these 3 accessories: HRM-Run™ , HRM-Tri™ or the Running Dynamics Pod. Visit the Running Science page to learn more.

Specification
General

LENS MATERIAL

sapphire crystal

BEZEL MATERIAL

stainless steel or titanium

CASE MATERIAL
stainless steel or titanium
QUICK RELEASE BANDS
Yes (22 mm)
STRAP MATERIAL

silicone, steel, titanium or leather

PHYSICAL SIZE

49 x 49 x 15 mm

DISPLAY SIZE
30.4 mm (1.2") diameter
DISPLAY RESOLUTION
218 x 218 pixels; transflective MIP colour; sapphire lens
DISPLAY TYPE
sunlight-visible, transflective memory-in-pixel (MIP)
WEIGHT

Steel with leather band: 94 g
Steel with steel band: 186 g
Titanium with titanium hybrid band: 112 g

BATTERY LIFE
Up to 25 hours in UltraTrac mode; up to 13 hours in GPS training mode; up to 1 weeks in watch mode
WATER RATING
10 ATM
COLOUR DISPLAY
MEMORY/HISTORY
32 MB; available 23 MB
Clock features

TIME/DATE
Time of day (12/24h), calendar (day/date), daily alarm, stop watch, timer, sunrise/sunset alerts
GPS TIME SYNC
AUTOMATIC DAYLIGHT SAVING TIME
ALARM CLOCK
TIMER
STOPWATCH
CHRONOGRAPH
SUNRISE/SUNSET TIMES
Sensors

GPS
GLONASS
GARMIN ELEVATE™

 

WRIST HEART RATE MONITOR
BAROMETRIC ALTIMETER
COMPASS
ACCELEROMETER
THERMOMETER
Daily smart features

CONNECT IQ™

 

(DOWNLOADABLE WATCH FACES, DATA FIELDS, WIDGETS AND APPS)
SMART NOTIFICATIONS
CONNECTIVITY
Bluetooth® Smart and ANT+®
CALENDAR
WEATHER
CONTROLS SMARTPHONE MUSIC
FIND MY PHONE
FIND MY WATCH
VIRB®

 

CAMERA REMOTE
SMARTPHONE COMPATIBILITY
iPhone®, Android™
COMPATIBLE WITH GARMIN CONNECT™

 

MOBILE
Safety and tracking features

LIVETRACK
GROUP LIVETRACK
Tactical features

DUAL GRID COORDINATES
Activity tracking features

STEP COUNTER
MOVE BAR (DISPLAYS ON DEVICE AFTER A PERIOD OF INACTIVITY; WALK FOR A COUPLE OF MINUTES TO RESET IT)
AUTO GOAL (LEARNS YOUR ACTIVITY LEVEL AND ASSIGNS A DAILY STEP GOAL)
SLEEP MONITORING (MONITORS TOTAL SLEEP AND PERIODS OF MOVEMENT OR RESTFUL SLEEP)
CALORIES BURNED
FLOORS CLIMBED
DISTANCE TRAVELLED
INTENSITY MINUTES
TRUEUP™
MOVE IQ™
FITNESS AGE
Yes (in app)
Fitness equipment/gym

AVAILABLE GYM ACTIVITY PROFILES
Indoor Rowing
Training, planning and analysis features

GPS SPEED AND DISTANCE
CUSTOMISABLE SCREEN(S)
CUSTOMISABLE ACTIVITY PROFILES
AUTO PAUSE®
INTERVAL TRAINING
ADVANCED WORKOUTS
DOWNLOADABLE TRAINING PLANS
AUTO LAP®
MANUAL LAP
CONFIGURABLE LAP ALERTS
VO2 MAX
TRAINING STATUS (LETS YOU SEE IF YOU'RE TRAINING EFFECTIVELY BY TRACKING YOUR TRAINING HISTORY AND FITNESS LEVEL TREND)
TRAINING LOAD (YOUR TOTAL TRAINING LOAD FOR THE LAST 7 DAYS CALCULATED FROM ESTIMATED EPOC)
TRAINING EFFECT (AEROBIC)
TRAINING EFFECT (ANAEROBIC)
CUSTOMISABLE ALERTS
AUDIO PROMPTS
FINISH TIME
VIRTUAL PARTNER
RACE AN ACTIVITY
AUTO MULTISPORT ACTIVITIES
MULTI-SPORT
COURSE GUIDANCE
GARMIN LIVE SEGMENTS
STRAVA LIVE SEGMENTS
TOUCH AND/OR BUTTON LOCK
HOT KEYS
AUTO SCROLL
ACTIVITY HISTORY ON WATCH
Heart rate features

HR ZONES
HR ALERTS
HR CALORIES
% HR MAX
% HRR
RECOVERY TIME
AUTO MAX HR
HRV STRESS TEST (MEASURES YOUR HEART RATE VARIABILITY WHILE STANDING STILL, FOR 3 MINUTES, TO PROVIDE YOU WITH AN ESTIMATED STRESS LEVEL; THE SCALE OF THIS IS 1 TO 100; LOW SCORES INDICATE LOWER STRESS LEVELS)
Yes (with compatible accessory)
HR BROADCAST (BROADCASTS HR DATA OVER ANT+™

 

TO PAIRED DEVICES)
Running features

AVAILABLE RUN PROFILES

Running, Treadmill Running, Trail Running

GPS-BASED DISTANCE, TIME AND PACE
RUNNING DYNAMICS
VERTICAL OSCILLATION AND RATIO (THE DEGREE OF 'BOUNCE' IN YOUR RUNNING MOTION AND THE COST-BENEFIT RATIO WITH STRIDE LENGTH)
Yes (with compatible accessory)
GROUND CONTACT TIME AND BALANCE (SHOWS HOW MUCH TIME, IN THE RUNNING MOTION, YOUR FOOT IS ON THE GROUND RATHER THAN IN FLIGHT AND LETS YOU CHECK YOUR RUNNING SYMMETRY)
Yes (with compatible accessory)
STRIDE LENGTH (REAL TIME)
Yes (with compatible accessory)
CADENCE (PROVIDES REAL-TIME NUMBER OF STEPS PER MINUTE)
PERFORMANCE CONDITION (AFTER RUNNING 6–20 MINUTES, COMPARES YOUR REAL-TIME CONDITION TO YOUR AVERAGE FITNESS LEVEL)
LACTATE THRESHOLD (THROUGH ANALYSIS OF YOUR PACE AND HEART RATE, ESTIMATES THE POINT WHERE YOUR MUSCLES START TO RAPIDLY FATIGUE)
Yes (with compatible accessory)
RUN WORKOUTS
RACE PREDICTOR
FOOT POD CAPABLE
Golfing features

YARDAGE TO F/M/B (DISTANCE TO FRONT, MIDDLE AND BACK OF GREEN)
YARDAGE TO LAYUPS/DOGLEGS
MEASURES SHOT DISTANCE (CALCULATES EXACT YARDAGE FOR SHOTS FROM ANYWHERE ON COURSE)
Manual
DIGITAL SCORECARD
STAT TRACKING (STROKES, PUTTS PER ROUND, GREENS AND FAIRWAYS HIT)
GARMIN AUTOSHOT™
GREEN VIEW WITH MANUAL PIN POSITION
HAZARDS AND COURSE TARGETS
TRUSWING™ COMPATIBLE
ROUND TIMER/ODOMETER
Outdoor recreation features

AVAILABLE OUTDOOR RECREATION PROFILES

Hiking, Climbing, Mountain Biking, Skiing, Snowboarding, XC Skiing, Stand Up Paddleboarding, Rowing, Jumpmaster, Tactical

POINT-TO-POINT NAVIGATION
BREADCRUMB TRAIL IN REAL TIME
BACK TO START
TRACBACK®
ULTRATRAC MODE
ELEVATION PROFILE
DISTANCE TO DESTINATION
BAROMETRIC TREND INDICATOR WITH STORM ALERT
TRAIL RUN AUTO CLIMB
VERTICAL SPEED
TOTAL ASCENT/DESCENT
COMPATIBLE WITH BASECAMP™
GPS COORDINATES
PROJECTED WAYPOINT
SIGHT 'N GO
AREA CALCULATION
Yes (via Connect IQ™)
HUNT/FISH CALENDAR
Yes (via Connect IQ™)
SUN AND MOON INFORMATION
Yes (via Connect IQ™)
Cycling features

AVAILABLE CYCLING PROFILES

Biking, Indoor Biking, Mountain Biking, Triathlon

COURSES
BIKE LAP AND LAP MAXIMUM POWER (WITH POWER SENSOR)
RACE AN ACTIVITY
TIME/DISTANCE ALERTS (TRIGGERS ALARM WHEN YOU REACH GOAL)
FTP (FUNCTIONAL THRESHOLD POWER)
Yes (with compatible accessory)
COMPATIBLE WITH VECTOR™ (POWER METER)
POWER METER COMPATIBLE (DISPLAYS POWER DATA FROM COMPATIBLE THIRD-PARTY ANT+™-ENABLED POWER METERS)
COMPATIBLE WITH VARIA VISION™ (HEAD-MOUNTED DISPLAY)
COMPATIBLE WITH VARIA™ RADAR (REAR-FACING RADAR)
COMPATIBLE WITH VARIA™ LIGHTS
SPEED AND CADENCE SENSOR SUPPORT (WITH SENSOR)

yes (ANT™)
Swimming features

AVAILABLE SWIM PROFILES

Pool Swimming, Open Water Swimming, Swimming/Running

OPEN-WATER SWIM METRICS (DISTANCE, PACE, STROKE COUNT/RATE, STROKE DISTANCE, SWIM EFFICIENCY (SWOLF), CALORIES)
POOL SWIM METRICS (LENGTHS, DISTANCE, PACE, STROKE COUNT/RATE, SWIM EFFICIENCY (SWOLF), CALORIES)
STROKE TYPE DETECTION (FREESTYLE, BACKSTROKE, BREASTSTROKE, BUTTERFLY) (POOL SWIM ONLY)
DRILL LOGGING (POOL SWIM ONLY)
BASIC REST TIMER (UP FROM 0)
"REPEAT ON" REST TIMER
POOL SWIM WORKOUTS
HEART RATE FROM EXTERNAL HRM (REAL-TIME DURING RESTS, INTERVAL AND SESSION STATS DURING RESTS, AND AUTOMATIC HEART RATE DOWNLOAD POST-SWIM)
Yes (with HRM-Tri™

 

and HRM-Swim™)
Additional

ADDITIONAL

Connect IQ™ app support: Yes (watch faces, data fields, widgets and apps)
EXO™ antenna (GPS/GLONASS): Yes
ANT+®: Yes
Bluetooth® 4.0 LE: Yes
Weather Alerts: Yes
UltraTrac: Yes
tempe™ sensor support: Yes
TracBack: Yes
Ski features: Yes
Physiological measurements: Yes
SUP/Rowing: Yes
In the box
fēnix Chronos with Leather Band
 

(010-01957-00)
fēnix Chronos stainless steel sapphire watch with vintage style leather band
Additional black sports wristband
USB/charger cable
Documentation
fēnix Chronos with Stainless Steel Band
 

(010-01957-02)
fēnix Chronos stainless steel sapphire watch with stainless steel band
Additional black sports wristband
USB/charger cable
Documentation
Safe Payment
Pay with the most secured payment gateway of your choice, either by Paypal or Credit Card.
Confidence
Protection covers your purchase and personal data.
Free Shipping
All orders in and around United Kingdom enjoy 100% free standard shipping.
Support
Hassle-free 24/7 Online Support.
Garmin Fenix Chronos Steel Smart Watch (UK/EU Spec)